A special assembly session where we will work together to preserve food, create jars of loveliness and talk about collaboration.
JarSquad brings people together through communal food-preservation, to practice sharing ingredients, recipes, and know-how by making jams and preserves as a 'squad'. Each session focuses on making use of seasonal and local produce that might otherwise go to waste.
No experience necessary, just a willingness to get involved & chip in with some fruit prep and cooking. You can book for one slot, or both.
JarSquad operates under their own exchange rate, where you will be able to trade each half an hour of food prep for a jar of preserves at the end of your session. Meaning you will be taking home some delicious food.
PLEASE BYO APRON (if you have one – it helps us lots to launder less!), and hair ties or caps.
PLEASE LET US KNOW if you have any food allergies in advance.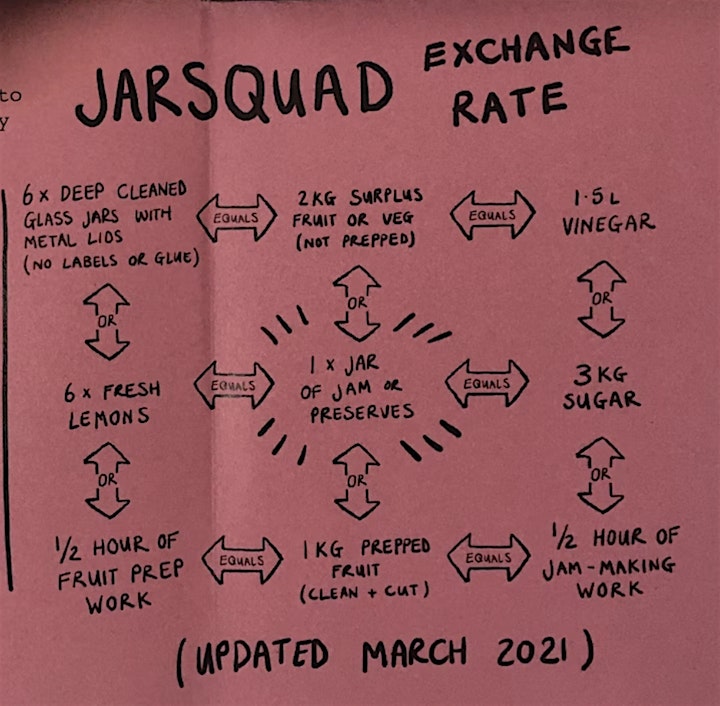 In addition to your contribution, we'd welcome any extra fruit or supplies you'd like to offer/trade using our exchange rate (image above) onsite.
Images courtesy of JarSquad.